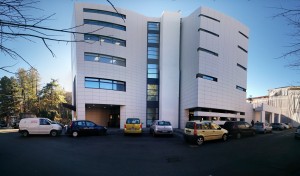 [lightbox title="Università degli Studi dell'Aquila – Polo Umanistico" thumb="3613″]
| | |
| --- | --- |
| Name: | Università degli Studi dell'Aquila – Polo Umanistico |
| Address: | Viale Nizza |
| Connectivity: | Fiber |
Structural monitoring of buildings
Building Automation/Energy Efficiency
Enhancement of cultural heritage through ICT
Structural monitoring of building
| | |
| --- | --- |
| Tipologia Strutturale | Calcestruzzo |
| Numero di livelli | 8 |
| H totale (m) | 32 |
| Regolarità in pianta | NO |
| Tipologia Strutturale | Calcestruzzo |
| Regolarità in altezza | SI |
| Isolamento alla base | SI |
| Piani rigidi | SI |
| Destinazione d'uso | Didattico |
| Cantierizzazione | Ultimato |
Building Automation/Energy Efficiency
The building is equipped with a solar photovoltaic power plant of 75 kW and a solar thermal power plant of 45 kW that support the conditioning plant so as to minimize the amount of energy taken from the grid.
In the solar photovoltaic power plant there are 5 three-phase inverters of 15 kW each that communicate with a main distribution board. This board communicate with another distribution board that sends the energy either to the plant or, if not needed, to the grid.
In the solar thermal power plant there are 2 boilers of about 2000 liters each, that through a valve system communicate:
during the winter (with a temperature that is about 40 °C) with radiant heating panels that heat the 2nd, the 3rd and the 4th floor of the building(Duca degli Abruzzi side) where professor's rooms are;
during the summer (with a temperature that is about 60 °C) with an absorber that convert hot water in cool water. During the days that are too hot the absorber is switched off since it is not known how to drain the excess water and a too high temperature might damage the plant;
during the rest of the year the plant is switched off.
The conditioning plant is the same (uses the same manifold) both when one has to heat up and when one has to cool down. In particular:
during the winter there are two condensing boilers of 600 kW each connected to the manifold, a main one and a secondary one that works only if the main one is not sufficient, which swap (the main one become the secondary one and vice versa) their roles every (about) 200 hours;
during the summer there are two packaged liquid chillers connected to the manifold (the same one that is also connected to the condensing boilers) that communicate with the 4 UTA units. Furthermore there is a storage tank for the hot water. The water is stored in post-heating batteries (since as said the manifold is the same for both the heating and the cooling process and hence during the summer the boilers are switched off) connected, through a valve system, to the UTAs so that it is possible to warm up the zones of the building.
One of the four UTA take only outside air and is not connected to any VAV box. The other three UTAs instead are connected to different VAV boxes for temperature regulation in different zones.
Restrooms are equipped instead with a classical heating systems with radiators.
Enhancement of cultural heritage through ICT